When I started my journey as a Teachers without Borders (TwB) Expert in a project called Youth for Future, I felt well prepared for my tasks as I have been living in Cambodia before. This gave me a first picture of the socio-cultural context and the role of Cambodian youth in their country.
Also, my professional background in a vocational preparation for young people and my work in youth and peace projects in other developing countries, equipped me with skills and expertise for the work to come.
Challenges and opportunities
As international travel became increasingly restricted because of the global pandemic, my work as a TwB expert was planned to be conducted from distance only.
It

was

a

real

pleasure

to

join

their

journey

in

developing

project

ideas

for

a

better

future

for

their

generation.
Initially, the absence of face-to-face contact with my colleagues and our stakeholders felt challenging. Selecting participants and preparing for an online capacity-development training without having met the participants in person, confronted me with the fact that I didn't know them or their skill level too well.
Poor internet connections together with often noisy and restless background diminished active participation. Physical presence would have been advantageous for the learning outcomes of the participants.
Even though I first had the feeling that things are moving slowly, many opportunities appeared along the way, which contributed to the capacity building of youth-groups in Cambodia. For example, a group of young environmental activist who organised trainings for other small youth groups, provided coaching sessions on their projects.
Cambodian youth passionate to make a difference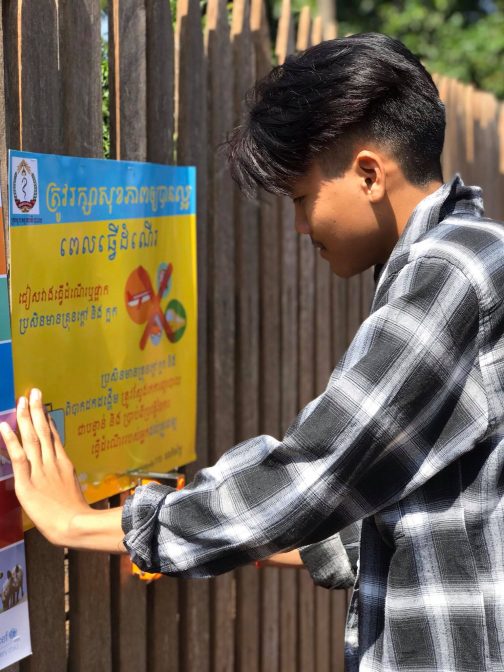 The FCA Young Leader Online Training was the first project activity. 24 young Cambodians participated in the training and proved that they are passionate about bringing change in their society, ambitious and motivated to work hard. Furthermore, they are skilled and knowledgeable to be successful with their ideas.
This experience was utterly joyful to me as it was a real pleasure to join their journey in developing project ideas for a better future for their generation.
They presented ideas on how to tackle inequality in access to education and school materials, particularly in the light of the global pandemic. The young Cambodians pondered upon how to provide better professional training for the future work force, but also how young people can be supported to express themselves and how to fight against discrimination of various minorities.
I am looking forward to continuing my journey as a TwB expert with young Cambodians, to strengthen their capacity in being an impactful generation but also to learn and be inspired by their ideas.