During my time as a TWB volunteer in Uganda, I have had the chance to visit many different schools in seven districts around West Nile and Kibale. For the SCORE project in 2017, UNICEF had chosen 20 poorest performing schools from each district, but that doesn't mean that everything was sad and poor and depressing in those schools.
First of all, all schools were different, because all teachers are different and teachers can greatly influence their own work if they are motivated, open-minded and like their job. Also the trainings in the SCORE project focused on the things individual teachers can do in the classroom, those small adjustments that help the children learn better and make the classrooms more child-friendly.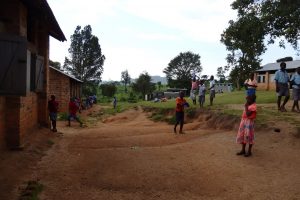 I saw schools with very little resources using the local materials creatively to provide children with learning aid. I saw motivated teachers who were struggling with their workload and overcrowded classrooms but were still treating the children with respect and providing them a safe learning environment. I saw teachers who applied new methods and games in the classroom. And I saw children who enjoyed coming to school.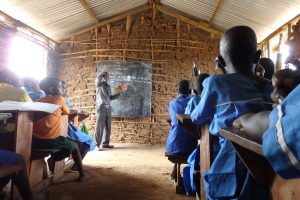 What amazed me the most was the amount of creativity to make learning aid from scratch using local and recycled materials. I had witnessed something similar before in Namibia in the urban school settings but this was different because there are not so many materials available in the remote, rural schools in Ugandan countryside.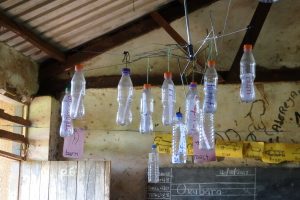 Also there are differences in recycling in different countries – in Uganda it is hard to collect the bottle tops for plastic bottles, because they are commonly re-used for many purposes, for example selling homemade honey or small quantities of cooking oil. There are people whose livelihood depends on collecting the used bottles and cleaning them for re-selling. That's why the use of natural materials can sometimes be a better choice. I have seen amazing little dolls made from banana fibre, they have even small, carefully crafted fingers and toes and the children carry them on their back like real babies. Footballs are also made from banana fibre and plastic bags.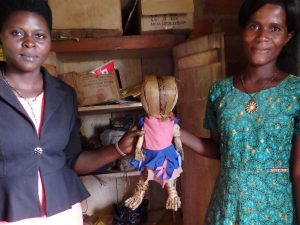 Long story short, in some of those rural schools the classrooms were empty and the teachers just shook their heads and told us "we have nothing to recycle". But then there were those other teachers in the other schools in similar environment who had thought outside the box and provided the children with learning aid from the same "nothing".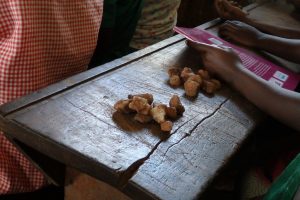 The difference between those two type pf teachers were children who were learning better and having more fun while doing so. In the mathematics class, 10 little stones for each child can make a difference in understanding how to count. In biology lesson, seeing and touching the actual plant that the teacher is talking about, can help the child remember the content. You don't need a printer in the school to make posters on the wall, cardboard boxes are also a good resource for teachers. Preparing the material can take a long time, but since you have it is there and makes your job much easier! So next time when you think you have no materials, go out, look around and try to think like the teachers in Kibale, Uganda.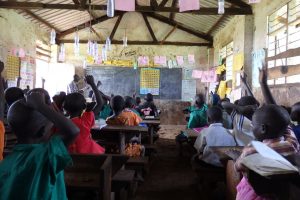 Laura Ketonen,
Teachers without Borders volunteer in Uganda