Globally, an increasing number of children have access to school, but millions of children and youth do not receive quality education. According to a report published by the World Bank in 2017, more than 60 per cent of comprehensive school students in the developing countries fail to learn basic skills at school.
At school, children and youth should learn skills that will help them to gain employment and lead lives that are meaningful to them. Education plays a key role in the prevention of marginalisation, increasing solidarity and lifting people out of poverty.
Teacher-training

is

the

key

to

improve

the

quality

of

education.
Teacher-training is the key to improve the quality of education. With the support of Teachers without Borders volunteers, Finn Church Aid seeks to provide teachers with long-term professional training and mentoring. In addition to this, Finn Church Aid and Teachers without Borders participate in curriculum development in cooperation with education authorities in the program countries.
By donating, you can support the development of the quality of education so that children and youth receive quality teaching.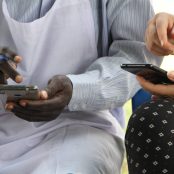 Text message donation
Send the word "OPETTAJA" to the following number: 16499.
Message: €20